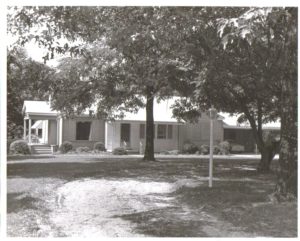 Oakmont Presbyterian Church began as a church extension project of the Birmingham Presbytery of the Presbyterian Church U.S. The first worship service took place at a house at 1812 Patton Chapel Road. A seminary student, James W. Ligon, led the first service with eight people attending. Oakmont was chartered as a church on July 4, 1965. There were 53 charter members. The Rev. James W. "Bill" Patton was called as the first pastor.
Oakmont grew. The sanctuary building was built in 1967. The Educational Building was completed by 1973. The old house was removed in 1996. From the earliest days, the church has reached out to the world. A Boy Scout Troop, Troop 93, was approved in November, 1965. Later, a Cub Scout den, a Girl Scout troop and a Brownie troop were begun. Other outreach ministries included a Mother's Day Out program (this ended in 2014), an Apartment ministry, providing volunteers at a women's homeless shelter, working on Habitat for Humanity construction, and collecting food for the Pentecost Can Campaign.
Oakmont's first Vacation Church School started in 1966. The Vacation Bible School is still going strong. The church choir began in 1965 with a volunteer director, six members and a piano. Oakmont's music ministry has grown. It now has a Music Director, a pianist, organ, and a choir of 12-15. The choir is quite active. Different members lead in solos and quartets. It also performs a cantata during the Christmas season. And, on Mother's Day, the Music Director gets the men to sing to the congregation. On Father's Day, the women sing to the church.
In 1983, the Presbyterian Church in the U.S. (the Southern church) and the United Presbyterian Church in the U.S.A. (the Northern church) reunited. Oakmont is now in the Presbytery of Sheppard's and Lapsley, Presbyterian Church U.S.A.
Oakmont continues to reach out to the world, to show the love of Christ. Troop 93 and the Cub Scout den are still very active. Thousands of cans of food are collected each year for the hungry. The music ministry is busy with varied programs. Come join us in serving Jesus Christ.